1.0 SOFASCO FAN CHARACTERISTICS ARE MEASURED AS FOLLOWS:
1.1 Measuring the Air Volume and Static Pressure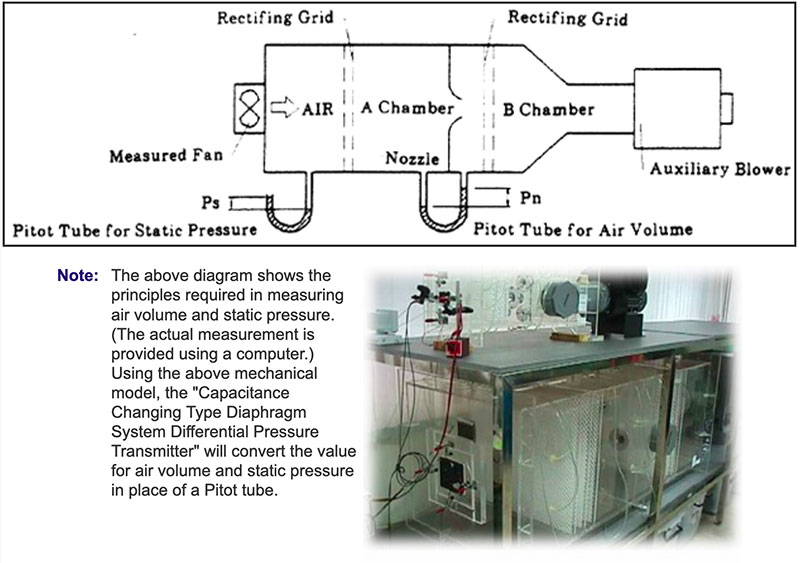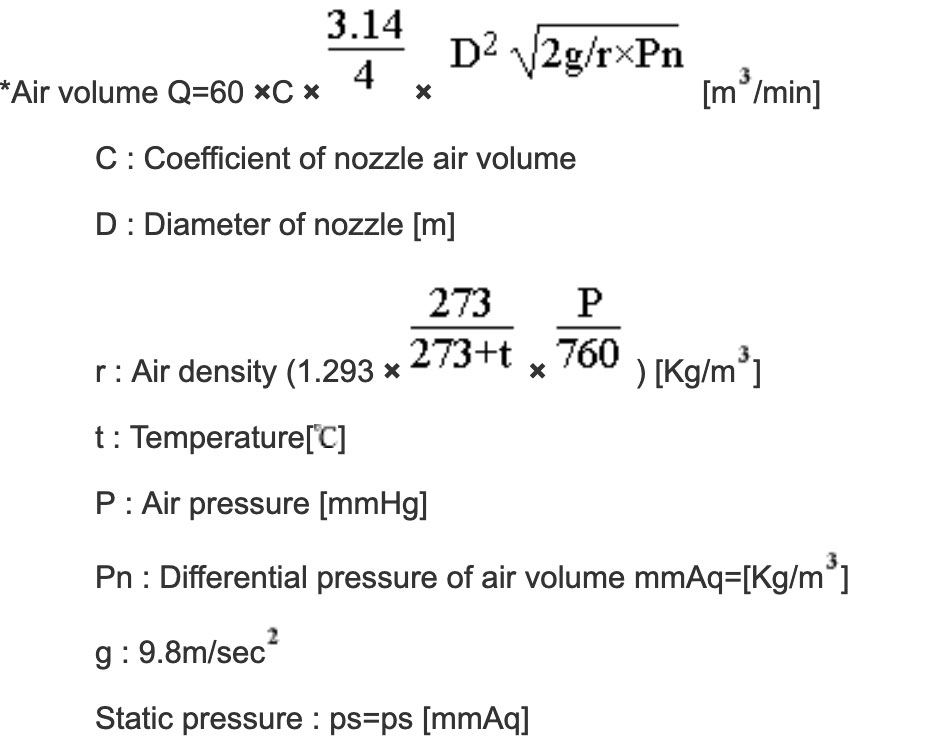 Maximum static pressure:
As shown in the above figure, when closing the nozzle, the pressure in the "A" chamber will reach its maximum. The differential pressure, (Ps) between the air pressure and the pressure in the "A" chamber is the maximum static pressure.
Maximum air volume:
When opening the nozzle and absorbing the air using the auxiliary blower to make the static pressure equal to zero (ps=0), the differential pressure (PN) between the "A" chamber and the "B" chamber will reach the maximum. The air volume obtained by applying the differential pressure (PN) to the above equation is called the maximum air volume.
CONVERSION CHART
STATIC PRESSURE

1 mmHO = 0.0394 inch HO
1 mmHO = 9.8 Pa
1 mmHO = 25.4 mm HO
1 Pa = 0.102 mm HO
1 inch HO = 249 Pa
AIR FLOW

1 m/min = 35.31 ft/min(CFM)
1 CFM = 0.0283 m/min
1 m/min = 16.67 l/sec
1 CFM = 0.472 l/sec
1 l/sec = 0.06 m/min1.2
1.2 Performance Point:
The Performance Point is the point at which the system impedance curve and the air static pressure curve intersect. The Performance Point equals the air volume (throughput) of the fan when the fan is operating. The Performance Point Curve is as follows: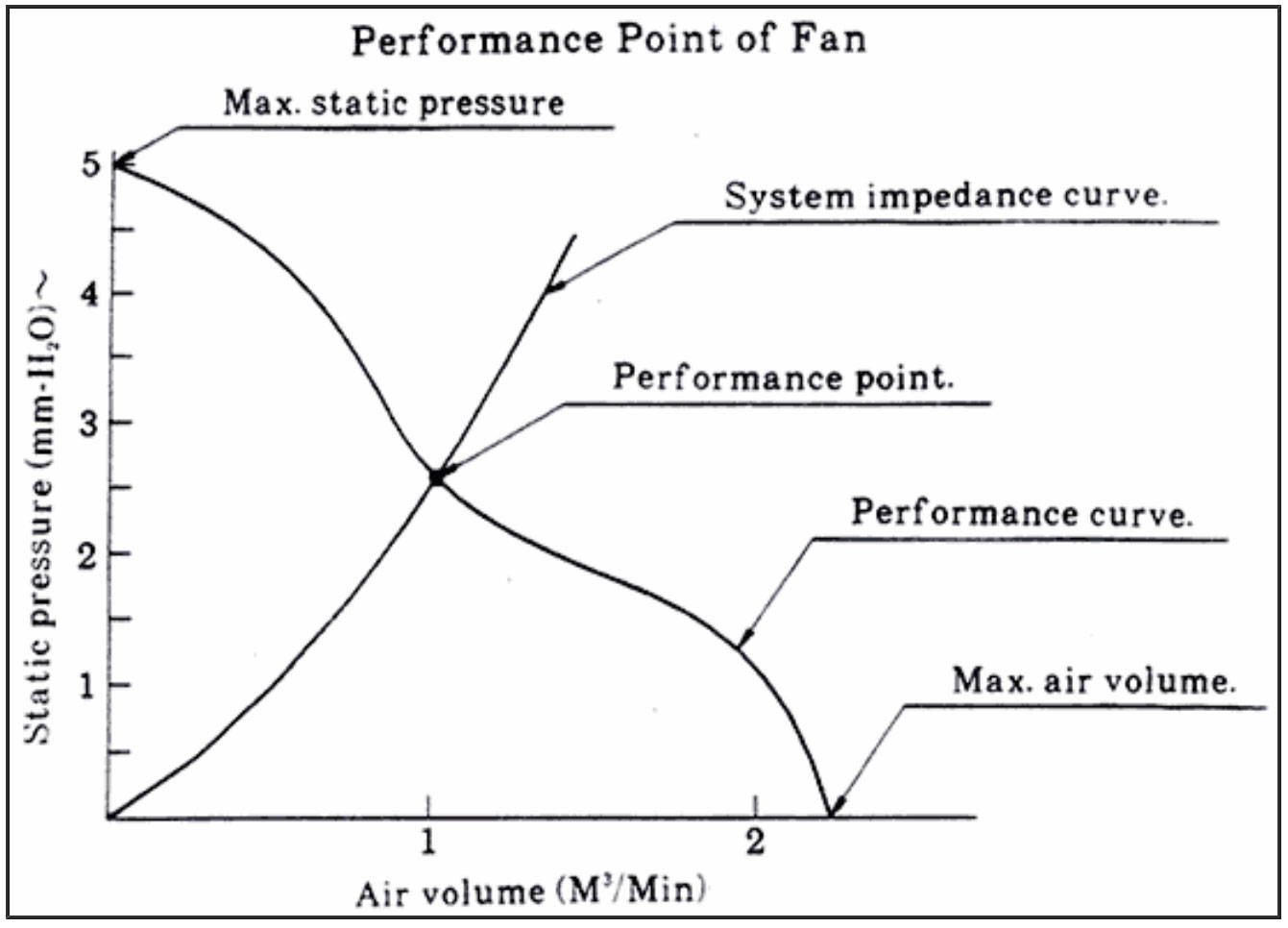 1.3 Determination of Air Volume:
The following formula should be used to calculate Air Volume:
Q=40W/(T2-T1)
| | |
| --- | --- |
| Where: | Q: Required air volume [M3/MIN] |
| | W: Amount of heat generation within cabin |
| | T1: Temperature of intake air to cabin |
| | T2: Temperature of exhausted air from cabin |
1.4 Noise Level Testing:
Acoustic noise is measured in a semianechoic chamber by means of a B&K precision integrating sound level meter with a background noise level below 20dBA. The fan is operating in non-resistant air with a microphone at a distance of one meter from the fan intake.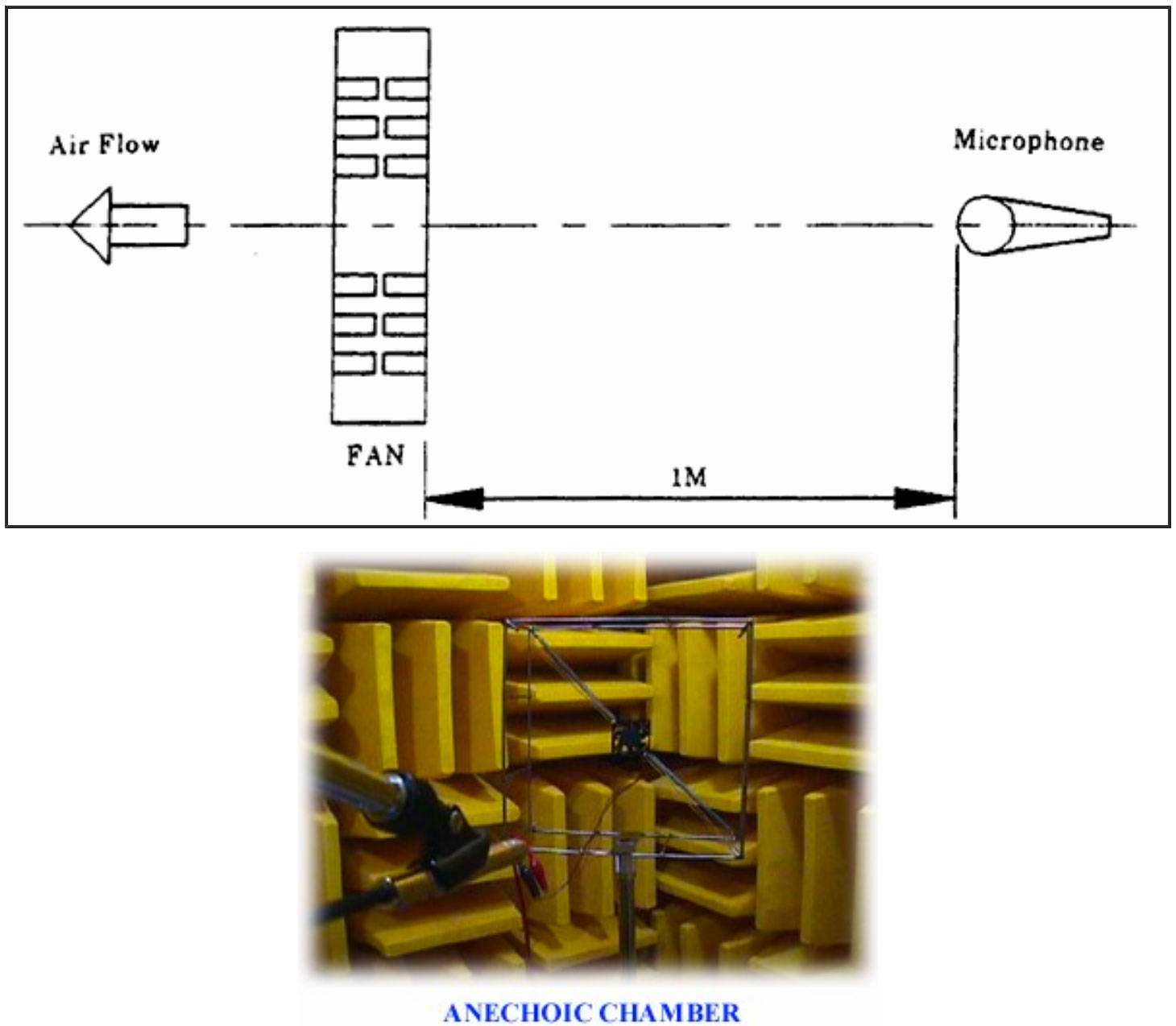 Sound pressure level (SPL) which is environmentally dependent and sound power level (PWL) are defined as
SPL = 20 log10 P/Pref
and PWL = 10 log10 W/Wref
where P = Pressure
Pref = A reference pressure
W = Acoustic power of the source
Wref = An acoustic reference power
Fan noise data is usually plotted as Sound Power Level against the octave frequency bands.
The measurement standard is according to : CNS 8753